DMX Cables
Professional 110-OHM Durable DMX cables for inter-connecting DMX512 equipment
- 110 OHM Cable -
Error Free Operation

The cable used in all our DMX leads use a low capacitance construction for an error free operation, especially important for runs over longer distances.

Noise Immunity

Especially important in Noisy environments associated with switching supplies for modern LED equipment and traditional phase angle dimmers, this cable is optimal for 110-OHM termination, reducing reflected signals and maximising immunity to conducted interference.

Cable Handling

These cable are ideal for touring or mobile applications where cables must be durable and remain flexible at low temperatures. They are the same diameter as standard XLR microphone cables and easily distinguished by the green jacket.
Suitable for DMX512 and RDM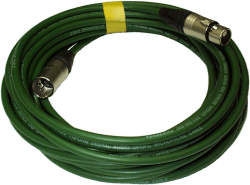 Click on image to view.
- Neutrik Connectors -




DMX cables are available with either the popular 3 Pin XLR or the standard 5 Pin DMX512 Connector.
- Custom Leads -
We also make DMX cables to your specific requirements. Please contact us if you have a requirement for a length or connection type not available in the shop or listed on this page and we'd be happy to quote.
- Points to note -
Some cables on the market are not specified at 110-OHM impedance. If this is the case, one may assume that are constructed with standard microphone cable, usually specified at 80-OHM impedance. While these may work over short runs, as the length of the run increases, the impedance of the cables becomes more critical.
This is especially true of RDM enabled equipment. DMX equipment should also have suitable 110-OHM or 120-OHM terminations at either end of the run. Suitable termination is sometimes built into the equipment. If in doubt, refer to equipment documentation or contact the manufacturer of your equipment.