DMX Interface Module
Isolated RDM Input and Output module with intergrated traffic indication.
- Features -
Isolation > 1kV

The module provides electrical isolation between the connection on the rear and the DMX connection. This is the recommended topology for DMX fixtures and RDM responders.

5V Logic Level Interface

The module is designed to handle the RS485 signalling used in DMX and RDM and connect straight to a processor or UART.

Low Noise Operation

The module has been designed with a 4 layer PCB and electrical configuration to minimise it's EMC signature. The unit draws a nominal 110mA at 5V, minimising demand on the equipment power supply. The design further minimises conducted emissions through the DMX connections.
Suitable for DMX512 and RDM Responder Equipment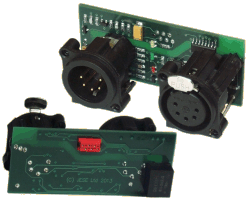 Click on image to view.
- More Features -
Automatic Termination

The female DMX connection operates an automatic 110 Ohm termination, ensuring that the correct end of line is always applied to the DMX chain.

Fail-Safe Receiver

DMX input employes a fail-safe RS485 receiver that will ensure that a mark condition is maintained if the DMX controller goes off-line or is disconnected.

Traffic Indication

Three indicators are mounted on the module PCB which may be ported to a chassis panel with a 25mm light pipe. A red LED indicates transmitted data, green LED received and amber LED, user controlled.
- Micro-MaTch™ Connector -

A MicroMaTch™ connector is supplied with each module. The connector crimps onto a 1.27mm pitch ribbon cable. Pre-fabricated connection cables are available to order from JESE Ltd.
Custom Cables
Please contact us if you have a requirement for a length or connection type not available in the shop or listed on this page and we'd be happy to quote.
- Connection Information -
Pin 1 is the connection nearest the connector key aperture.

For transmission mode, DOE should be driven high and data modulated on TXD.

For receive only mode, for example, when used to drive a digital scope, tie DOE to ground and TXD high, to Vin.